1. We've built our service on 20 years of experience.
New services vendors can sound cool, but wouldn't you rather stake your business reputation in a trusted leader in cybersecurity?
When selecting your MDR provider, it's important to make sure the vendor will be able to support you, both now and into the future. For over 20 years, Rapid7 has been synonymous with helping thousands of organizations just like yours to securely advance their business. It's no wonder Rapid7 was named a Leader in the 2020 Forrester Wave™ for Midsize Managed Security Services Providers, Q3 2020.
Our SOC pod model and underlying technology, InsightIDR, provide scale ensuring that each alert in your environment is triaged, no matter what your environment size, organizational structure, or technical complexity. And we're constantly improving our detections to keep your business safe. Each year, Rapid7 invests almost $100 million in Research & Development initiatives to progress our MDR service forward by investing in the technology and team that monitors over 145 Billion events daily—almost double the volume of Arctic Wolf. That's 1.2 Trillion events per week, and growing!
"Because of Rapid7, we can focus on the goals of the business rather than having to manage and plough through notifications, alerts, and problems found by security tools. Thanks to Rapid7, one thing we've not experienced is security fatigue."
— Brad Smith, Engineering Lead, Resimac
2. Extend your program with a true security team of six analysts–not a "concierge" SOC of three.
How confident are you that "better security effectiveness" can really be achieved with only 2 analysts and 1 engineer looking over your account 24/7?
Rapid7's SOC team is assembled into pods of security experts with unparalleled experience—both red and blue teams—that monitor your environment around-the-clock. Each pod is made up of 6 analysts and 1 Security Advisor. Each analyst has an average of 5 years of detection & response experience. And our Security Advisors have the security experience and certifications that back up their experience as technical experts too.
On top of that, our detection and response expertise is infused into everything we do. From threat intelligence to breach response, we'll provide education, tuning, and guidance to help you strengthen your security posture and meet your security outcomes.This includes human threat hunting, alert investigation, validation of threats, and guidance (e.g. remediation, and mitigation recommendations), and containment for only true threats.
"I don't kid that I sleep better having Rapid7 in place. Before it was the fear of what could be going on that I don't know about. You never know what's happening on your network until you get something like Rapid7. It's just amazing to me."
— VP of IT, Anonymous
3. Rapid7 has some of the best people in the industry. Feel free to compare.
Would you have more confidence in a team of specialized detection and responders or a SOC team of members with general security experience?
When it comes to your business' security team, you wouldn't hire a generalist to take on a specific discipline—especially detection and response. The same should go for your MDR partner.
Our team is made up of true detections and of responders with an average of 5 years experience, each with over 500 collective security certifications. Even our Security Advisors (also called Customer Advisors) have extensive experience in detection and response.
Not convinced Rapid7 has the best talent in the industry to protect your business? Compare public job requirements for Rapid7's SOC Analysts vs. Arctic Wolf's.
"We catch up with one of our Customer Advisors regularly, and the conversations we have aren't just purely around the MDR service—they might be about new vulnerabilities and other things in the industry that have popped up. So we can leverage their knowledge and experience to get more security information,"
— Rob Mihalek, Head of IT Operations, Resimac
Compare Experience and Expertise

Associate MDR Analyst
Concierge Security Analyst
2-4 years of professional detection and incident response experience*
BS in Computer Science or 5 years in IT*
2 Staff in MDR SOC Pod
1 Staff in Concierge Team
MDR Analyst
Concierge Security Analyst II
4-7 years of professional detection and incident response experience*
1-3 years of experience in a hands-on security role with a good knowledge of security architecture*
3 Staff in MDR SOC Pod
1 Staff in Concierge Team
Rapid7 Senior MDR Analyst
7+ years of professional detection and incident response experience*
1 Staff in MDR SOC Pod
0 Staff in Concierge Team
Security Advisor
Concierge Security Engineer
3-7+ years of experience in Detection & Response or related discipline*
3-7+ years of experience in a hands-on security role with a strong knowledge of security architecture*
1 Staff in MDR SOC Pod
1 Staff in Concierge Team
4. We'll catch threats using multiple methodologies and technology that Industry Analysts call a Leader in the industry.
Detection and response is only as good as the technology you use to catch attackers. You wouldn't buy an unproven technology to protect your business. Why would buying a service with that technology be any different?
Trust Rapid7's Insight Platform and technology stack to catch attackers with deep visibility and full control of your end-to-end service delivery. We're not beholden to any third-party vendors for your service delivery. It begins and ends with us, unlike other services that monitor Microsoft's Freeware (Sysmon) to detect threats.
Rapid7 has a deep heritage as a pioneer in User Behavior Analytics and Attacker Behavior Analytics in the SIEM space. Our underlying technology provides more endpoint-level detection visibility (when, where, what, and how the attack is happening) and granular detections (across the entire MITRE ATT&CK chain).
Additionally, with the capabilities introduced through our acquisition and integration of NetFort's 18-year-old technology, InsightIDR's Network Traffic Analysis extends network-based detections through our proprietary Deep Packet Inspection (DPI) engine. Our unique approach to flow data enables detections across network activity, users, and devices across your network without requiring an on-premises appliance.
"Sometimes you purchase something and get buyer's remorse. You wonder if you made the right decision. When we were doing the installation, though, that's when I thought 'Wow, these guys know their software.' They knew a fix immediately, for everything."
— VP of IT, Anonymous
Compare Detection Methods

Attacker Behavior Analytics
HoneyPots
HoneyUsers
HoneyCredentials
User Behavior Analytics based on asset authentications
Limited
Proactive Threat Hunting
Limited
Active Threat Validations
Signature-based Detections
Network Traffic Analysis (IDS, DNS, DHCP)
Enhanced Network Traffic Metadata (DPI, Network Flow)
5. You'll have full access to the technology we use to deliver your service. We have nothing to hide.
"Proprietary SIEM" typically means "black-box" visibility. How can you have confidence in a solution you can't see, evaluate, and gain access to?
Your MDR provider can only be as good as the underlying technology used for detections. Rapid7 offers our premium service for just that reason; we provide full access to our industry-leading Cloud SIEM solution, InsightIDR, that provides coverage across the entire SOC triad with the resources, accessible expertise, and clear direction needed to accelerate your security maturity.
And you'll have full access to see, use, and learn our InsightIDR technology. This isn't basic reports and log search tools. Rapid7 MDR comes with a full-blown cloud SIEM that 3rd party industry analysts call a Leader. In fact, our favorite customer stories come from security teams that graduate from MDR to take on detection and response in-house using InsightIDR after learning from our team!
"Even though you guys are managing InsightIDR, I feel like I can do anything within that software. I can go and I can change the logs, I can change some of the alerts, I can look at everything; I have full visibility and the ability to touch everything I need, which really I thought was outstanding."
— Tony Hamil, Cybersecurity Engineer, Real Estate Development Company
Take a Test Drive with a FREE Trial
6. The reports you'll receive are handcrafted and won't just tell you to "reimage the machine."
Reports should tell you the complete story of the attack and how to best contain the attacker, remediate the threat, and mitigate future situations. Otherwise, how do they help you improve your security posture?
With Rapid7 MDR, after alerts are investigated and verified, our SOC analysts produce a Findings Report, or known as an incident report in some instances. This isn't your standard automated report generated by the technology. It's a deep dive into the attack storyboard and clear direction for how to improve your security posture. We have customers that just pass it along to their IT teams since the report says more than "reimage the box".
You'll receive a Findings Report (unlimited) each time we validate a threat. This report is a summary of the incident and contains:
Detailed investigation timeline and root cause analysis
Written analysis of attacker activity and scope of the threat
Incident criticality and risk
How to contain the endpoint or user
How to resolve this incident
Potential ways to prevent future recurrence
Want to compare? Take a look at a standard Findings report we'd send your team for an incident.
"Rapid7 team has been excellent… In each monthly report, we sit down and we look at the activity that's been reviewed over the month. We go over the hunts that the MDR team has performed. We talk about lessons learned, and we try to find out how we're to get a better next month."
— Bill Heinzen, Information Security Team Lead, NISC
7. Rapid7 doesn't just watch for threats. We know attackers better than just about anyone.
We believe threat intelligence isn't the name of a role, it needs to be core to your MDR provider's DNA. Can other providers show what they've learned about the threat landscape and how it impacts your business?
Rapid7 has unparalleled knowledge of attackers. As new threats are discovered, our Threat Intelligence team develops signatures and analytic detections for existing and emerging threats ensuring coverage for various IOCs that malicious actors use in the wild. These detections are mapped to the MITRE ATT&CK matrix based on 145+ Billion daily security events observed across our industry research initiatives and security platform.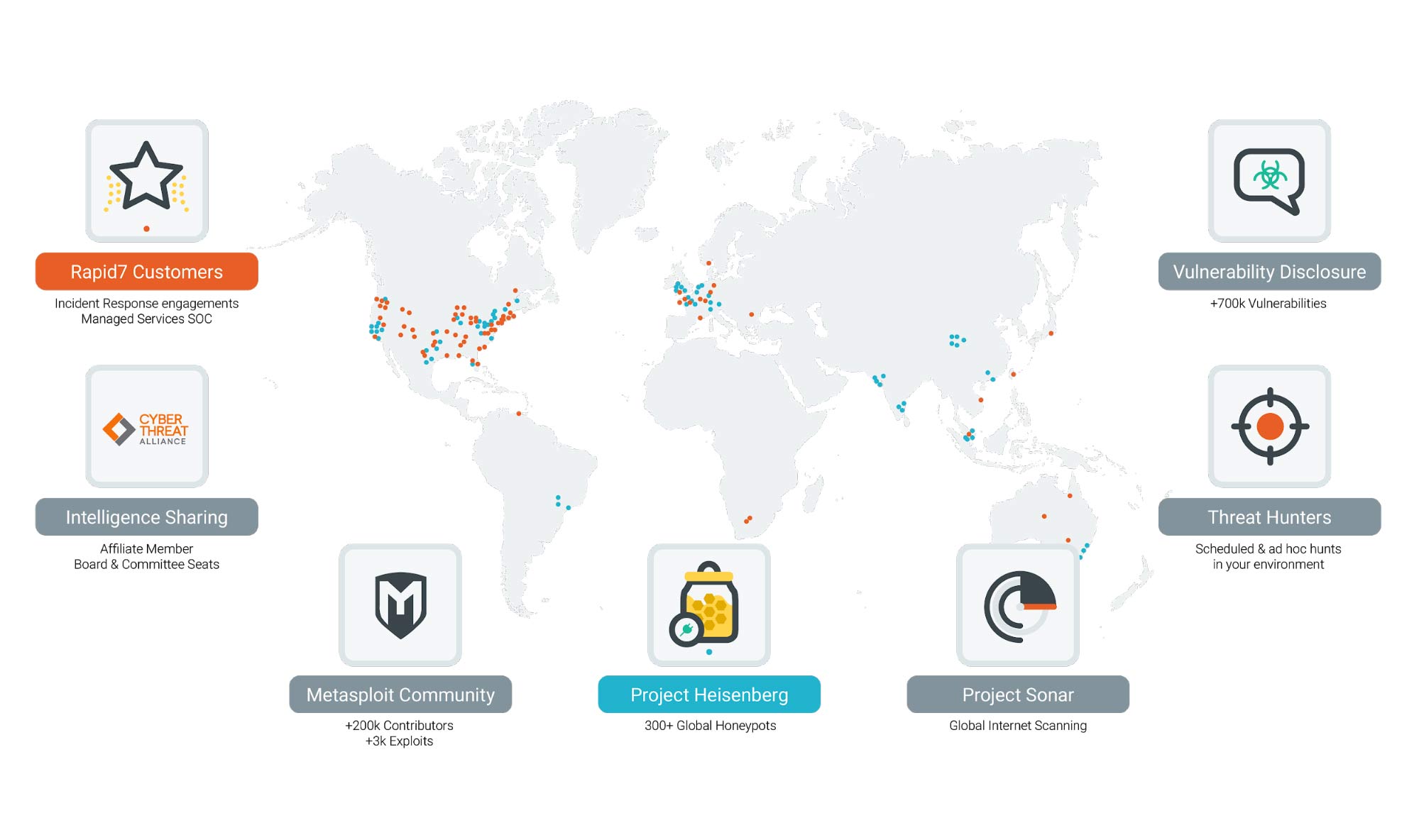 Rapid7's MDR team analyzes emerging threats at a fast-paced, operational level, and produces actionable tactical intelligence & detections as a result. Our sources include internal intel and frontline threat data from IR engagements and analyst workflows. The single most important source of threat data which we transform into our detections is the data derived from MDR & IR intrusion reports.
Want to take a look at our research? Here's one of the nationally recognized Threat Intelligence reports produced from our team.
"Sleeping easier at night is one aspect, but it's about being more proactive about things. It's knowing what the landscape is, being able to report on what we don't know, and to sort, categorise, and prioritise particular styles of threats. It has been an eye-opener for us, particularly because we don't have a CISO in the business."
— Rob Mihalek, Head of IT Operations, Resimac
Compare Threat Intelligence

Proprietary Threat Intelligence & Research Infrastructure to constantly improve your service
Threat Intelligence Reports to keep you informed about emerging threats
Recognized member and contributor of the Cyber Threat Alliance
Commercial & Open Source Threat Feeds
Unlimited rules granularity or generalization
Unlimited situational rules customization
Curated detection logic for immediate protection on Day 1.
Signature-based Detections
Signature-based Detections
Network Traffic Analysis (IDS, DNS, DHCP)
Enhanced Network Traffic Metadata (DPI, Network Flow)
8. Rapid7 MDR has it all in-house–from detection through emergency breach response.
Would you trust a detection and response service that doesn't have Breach Response experts?
Rapid7's in-house team provides unlimited Findings Reports and incident response assistance, making it one of the only MDR services capable of delivering end-to-end detection and response.
On top of the day-to-day monitoring, our analysts conduct compromise assessments at the beginning of your onboarding and scheduled monthly hunts to find known and unknown threats in your environment.
In the event of a security breach with a live, hands-on-keyboard attacker in the environment, you can leverage one of their two allotted Remote Incident Responses (RIR) -- synonymous to a remote emergency breach response. These engagements are included as a value add with MDR and perform a deeper investigation beyond what is provided in the Findings Report by our in-house MDR and Breach Response team that handles our Global Services engagements.
A lot of my executives like to have that warm and fuzzy 24/7 ... Somebody's always watching our logs, so, if they do see something that pops up and correlates and says, "Yeah, this is bad," and I'm asleep, and it's two in the morning ... We need somebody always watching that. It's me and one other person; we don't have the ability to do such. And so, we need somebody on another end who can look at it, verify, and not just a computer automated response that says, "Yeah, this is possibly bad." They look into it, they verify it, they can hunt it actively and say, "Yes, it's definitely a malicious item," and give me a call, or whatever needs to happen.
— Tony Hamil, Cybersecurity Engineer, Real Estate Development Company
9. Outstanding ROI and total economic cost your CEO and CFO will appreciate.
Rapid7 MDR's SOC should offload your work for a strong ROI. Why pay and outsource detection and response if you're only going to cut your team's detection and response efforts in half?
Don't be fooled by fancy reports and ROI numbers. A "50% reduction in effort from internal security operations group for triage and investigation activities" still means your team is stuck doing a lot! With Rapid7 MDR, the only thing your team will have to do is eradication and recovery, not further validation and figuring out what to do next.
Forrester recently conducted a TEI report that looked at the InsightIDR technology and concluded extremely fast onboarding times and a 4X+ return on investment. Now add in an entire MDR team managing, monitoring, and responding to incidents for you and that ROI number grows even higher. It's no wonder why Rapid7 MDR boasts an 'excellent' Customer Satisfaction NPS Score of 56!
"Whenever I give a presentation to the C–suite or a business review team, I like to include dashboards from Rapid7, to provide that global picture. As soon as I brought in MDR I went there and said 'look, here are the hundreds of people from China trying to hack our Office365 accounts every day. This is what I need to fix.' It is that kind of visibility of data that helps me justify my budget."
— Brandon Ashey, Cradlepoint