4. We're 100% committed to service and stand behind our products
Both Rapid7 and Tenable publish SLAs and guarantee 99.95% uptime. However, on the off-chance our system availability drops, only Rapid7 offers up to 100% service credit of the prorated monthly fee paid. Tenable caps service credits at a mere 10%.
We also publicly report our uptime and provide transparency around our SLA.
5. You can't protect what you can't see
Do either of these scenarios sound familiar?
A department within your organization spun up a web server for an event using your domain name without going through the proper channels. You didn't know about it except through word-of-mouth.
Your organization has recently merged with or acquired another organization. With these new users and assets, you know your attack surface has changed, but not by how much.
These may be common challenges for security teams, but most vendors—including Tenable—don't provide you with the level of visibility needed to address them in an actionable or timely manner.
InsightVM directly integrates with Project Sonar, a Rapid7 research project that regularly scans the public internet to gain insights into global exposure to common vulns. Leveraging Attack Surface Monitoring with Project Sonar gives you a pulse on all of your external-facing, internet-connected assets, including those that may be undiscoverable with Tenable.
6. Security is too complex for point solutions
Vulnerability management is the cornerstone of every security program, but adapting to the evolving threat landscape requires purpose-built solutions that work together for threat detection and response, application security, automation, and more. At Rapid7, we partner with our customers to achieve their overall security goals—not just those specific to vulnerability management—while offering a simpler, unified line of sight across these best-of-breed solutions with the Insight cloud.
Let's take our Insight Agent as an example: With a shared agent across InsightVM and InsightIDR—a Leader in the Gartner Magic Quadrant for Security Information and Event Management (SIEM)—our customers get a holistic view of assets and the users behind them. To extend risk protection to the application layer, customers can go beyond application discovery in InsightVM to test and remediate with InsightAppSec, the highest rated DAST solution by an independent research firm three years in a row. Rapid7 was the only full stack vulnerability risk management vendor to be evaluated for its application security capabilities.
Tenable passes off its sole focus on vulnerability management as an advantage, but you're the one left juggling multiple vendors and products with limited avenues to share data across them. Even Tenable's own products—Nessus, Tenable.sc, and Tenable.io—don't augment each other, causing many customers to have to purchase both Tenable.sc and Tenable.io, for example, to accomplish standard vulnerability management tasks.
Don't just take our word for it—hear why our customers choose the Insight cloud:
"Being able to interface on the dev level with the people who are actually building the product and who have written the API and the integrations is really huge... We're excited to continue to build out the agent API with Rapid7."
— Christina Galligan, Director of Cybersecurity Operations at Rackspace
7. Automation that lets you remediate with speed and control
Automation-Assisted Patching in InsightVM
In addition to the streamlining provided by Remediation Projects, InsightVM also integrates with patch management tools like IBM BigFix and Microsoft SCCM and ticketing systems like Atlassian Jira to expedite the most tedious parts of your remediation process. Automation-Assisted Patching lets you take this one step further by automatically applying patches in a matter of minutes, rather than hours or days. This gives you back the time and resources to be more productive and focus on the more strategic aspects of your security strategy. In The Total Economic Impact™ Of Rapid7 InsightVM, a November 2019 commissioned study conducted by Forrester Consulting on behalf of Rapid7, Forrester found that customers who switch to InsightVM experience a 60% reduction in patching efforts.
Tenable can give you a view of your patching systems, but it cannot orchestrate these systems to patch issues in a timely, automated way.
Automated Containment in InsightVM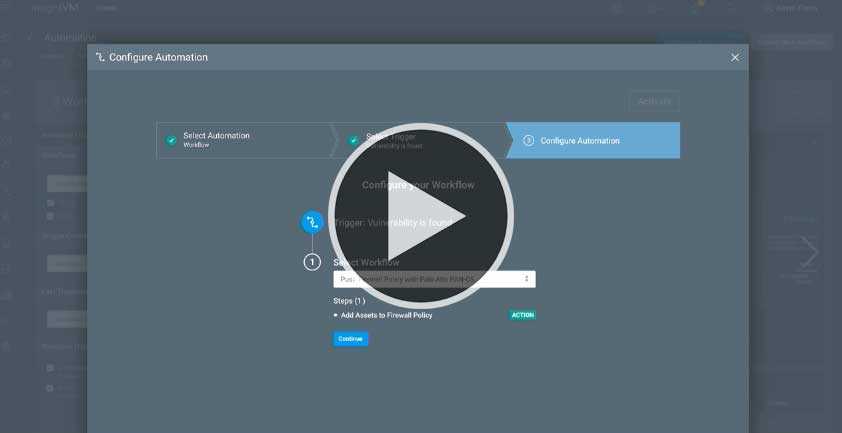 That said, we know that not every vulnerability can be remediated: With Automated Containment in InsightVM, you can decrease exposure from vulnerabilities by automatically implementing temporary (or permanent) compensating controls via your Network Access Control (NAC) systems, Firewalls, and Endpoint Detection and Response tools; these can act as both stopgaps or long term solutions to reduce exposure.
8. We're the silver lining to your cloud
With direct integrations with Amazon Web Services (AWS), Microsoft Azure, and Google Cloud Platform (GCP) across the Insight cloud, Rapid7 is uniquely positioned to provide full visibility of your cloud-based infrastructure and enhance your overall cloud security posture. Not only does InsightVM automatically detect when new devices are spun up or taken down, but the Insight Agent can also be embedded in cloud and virtual images so that infrastructure is assessed as soon as it's live. This assessment extends to the configuration of your cloud-based infrastructure.
As an AWS Advanced Technology Partner, Rapid7 also integrates with Security Hub to automatically share vulnerability findings related to AWS assets. Having this centralized view provides security, IT, and DevOps teams instantaneous visibility into potential risk and attack vectors in their cloud environment. While Tenable's integration ends here, we're able to close the loop with InsightConnect, our security orchestration and automation solution; this integration lets you take action on findings in Security Hub, such as kicking off automated workflows for remediation.
9. Nickel-and-diming isn't our style
Comprehensive vulnerability management shouldn't break the bank. InsightVM is priced based on the number of assets in your environment, and offers full functionality at no additional cost.
Here are just some of the InsightVM features and capabilities that often come at an extra charge with other vulnerability management vendors:
Container Assessment
Cloud Configuration Assessment
Threat feeds that are correlated to your assets
Flexible dashboards that don't require add-on services
Compliance scanning and policy assessment
Tenable Nessus is a common entry point for those getting started with vulnerability management because of its low cost, but users learn its limitations quickly, often having to upgrade to Tenable.io at 10 times the cost. Even Tenable's SecurityCenter offering can't accommodate for organizations supporting a remote workforce.
Check out InsightVM Pricing for more details.
10. Visibility that empowers you to be proactive
InsightVM makes it easy to collect information across your changing network. This includes the other components of your tech stack, such as VMWare, Amazon Web Services (AWS), Microsoft Azure, Docker, and McAfee ePO, as well as the automatic detection of new devices as they join your network.
Instead of monitoring and displaying every piece of network traffic, as with Tenable's passive vulnerability scanning, we identify the changes that truly impact your surface area and risk posture; this lets you monitor changes in your network without a deluge of false positives and the deployment of additional software. In fact, Forrester Consulting found that customers who switch to InsightVM see a 22% reduction in false positive alerts.